LaVale Parks Slideshow – September 2019
Many thanks to Antoinette Royster
LaVale Civic Improvement Association Changes Officers – April 2019
William Kight is shown accepting the gavel as the new President of the LaVale Civic Improvement Association from Paul Yockus retiring President at the April 22nd meeting. Other new officers sworn in are Wayne Foster, First Vice President, Brad Metzger, Second Vice President, Tina Midgarden, Secretary, and Dorothy Kight, Treasurer.
Shown left to right in second photo and retiring after 20 years, or more, of faithful service to the Lavale Community are the former officers, Don Sause, First Vice President, Dick Pesta, Treasurer, Agnes Yount, Secretary and Paul Yockus, President.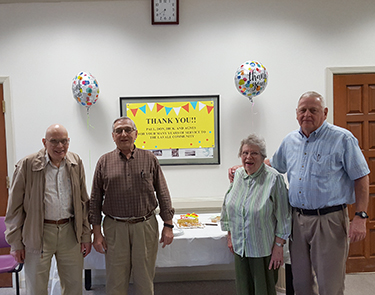 The LaVale Civic Improvement Association (LCIA) works with Allegany County Government as a link to the residents of the LaVale area. It helps maintain three parks and two tennis courts in LaVale and applies for open space funds to help improve the LaVale Area. One of the main projects is the Annual LaVale Sidewalk Clean Sweep Day during April. In addition the LCIA works with the Braddock Run Watershed Association and the LaVale Athletic Association.
The LCIA meets on the fourth Monday of each month from March through November, with the exception of May. Memorial Day falls on the fourth Monday so the May meeting will move to Tuesday May 28th at 6:30 at the LaVale Library. All LaVale residents are invited to come to these meetings with questions, ideas and concerns about their area. For details about the organization see www.lavale.org or call William Kight at 301-707-6144.