Dear Neighbor,

Thank you for visiting the home page of the LaVale Civic Improvement Association. The purpose of this site is to assist in informing and uniting all LaVale residents. Here, you'll find community links, discussion boards, local information, and current activities.

Any and all comments are welcome.



!! Alert !!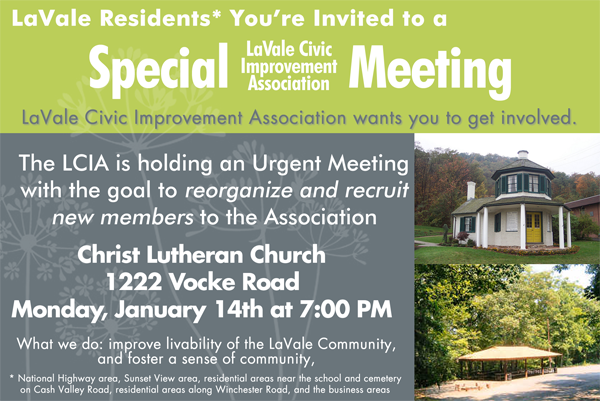 The LCIA has been in existence for more than 72 years serving as a conduit between the citizens of LaVale and the County Government. This meeting is an opportunity for new and established residents to become involved, with their ideas and perspective.
--Paul Yockus, President

Other News / Announcements

A decision will be made shortly regarding the possible addition of a dog park to LaVale. If you have any thoughts, please let us know soon by sending a message, ATTN: Paul Yockus, to
lcia21502@gmail.com
. Thanks!
Upgrade completed at the Georges Creek Tennis Courts (near the LaVale Swim Club). New bear/water-proof garbage cans are in place, and new striping has been added to the two upper courts which will allow Pickleball to be played on those courts.